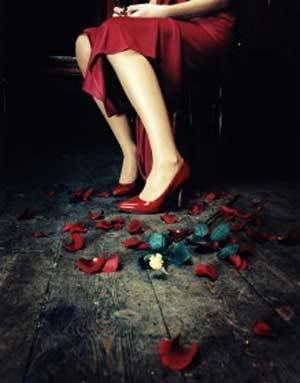 I am in love. With shoes. My closet is chock full of pumps, boots, and shiny flats. Every time I see a shoe store I get the urge to yank my car over and partake in the rapture of finding that new pair. Maybe I need a twelve STEP program. It's about the only materialistic thing I have a problem with and I rationalize this because, by gosh, these shoes DO take me places.
Obviously I'm not alone with this addiction. Go to any shoe store and you'll catch mysterious women, buzzing around footwear blooming from boxes like sun lit peonies', then flung and scattered, scattered and flung in a frenzied picking. I once tried on a pair of red heels at Target and a woman next to me oohed and awed until discovering they were the last pair in her size eight. Her creamy complexion then flamed and her eyes turned flinty. For fear of being maimed, I sheepishly handed the pumps over. I mean, if I get thrown in the slammer for brawling over shoes, it'll be a pair of Jimmy Choo's.
So, I've tried on glossy black pumps and envisioned myself in that silky blue dress, sauntering down New York's Saks Fifth Avenue, cell phone humming and shopping bags winking and swinging in the sun. A green pair of flats have easily transported me to a pub in Ireland, having a loud conversation with a bloke about the virtues of Irish whiskey. Well, maybe not that. Quite possibly I'd be corralling sheep in a field that I'd inadvertently let out to picnic underneath a birch tree.
Recently I was clearing out my closet (finally) and had every pair of shoes I owned scattered like chunky confetti on the bathroom floor. One of my daughters peeked in.
Daughter said, "Gosh, mom, you have a ton of shoes."
My tone was defensive. "Say what?"
She added, "Nothing." Her eyes gleamed, sudden like. "Oh, can I borrow those black flats?"
"Mm hmm."
With three girls who also adore shoes, I've learned to be quite thrifty. None have cost me much over twenty dollars and most, much less. Did I mention I had a shoe addiction?
CLASSIC BLACK PUMPS: This pair has taken me to weddings, where chocolate fountains drip like silky rain. And tiered raspberry filled vanilla cake can never have too much butter cream icing.
WET TURQUIOSE FLATS: I've walked down dirt roads of Louisiana history in these; explored plantations along the Cane River and those outside of New Orleans, Baton Rough, and St. Francisville. I also went deep into the swamps and held a baby gator and stroked a river rats head while wearing these. Yes, I did. Laissez les bon temps rouler!
PLAID BOOTS: Plenty of Texas two-stepping in this pair, music loud, dance floor slick with sawdust. I've danced in these at the Garner State Park pavilion, too, under a full moon bright as a lit cigarette end,jukebox blaring Ring Of Fire by good ole Johnny Cash. As you can see, they are well loved.
BLUE COMFY FLATS: These are taking care of business shoes-volunteer work, grocery shopping, doctor visits, running kiddo around kind of stuff.
LUCKY SLIPPERS: Got these for Christmas and I anticipate they'll take me down many hills and valleys of inspiration in the story telling arena. Comfy is the name when I'm at home with my mind on writing. Writers can stay in PJ's and slippers if we choose and barring a knock at the door and the occasional raised eyebrow of the UPS man, nobody need know we've been creating little worlds of our own. Don't you adore that?
Yes, I have a compulsion for shoes. I admit it. How about you?