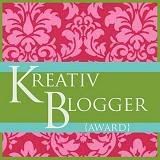 While writing in Hawaii, a delightful surprise was left on my blog: The Kreative Blogger Award.
I'm honored and thankful that Jon Strother, fellow writer and creator of
Mad Utopia,
chose little ole mine. Thank you, Jon. By the way, if you haven't checked out Jon's blog, do yourself a favor and stop in. He is the creator of
#fridayflash
, a venue for writers to post short stories. And post they do. You might want to share your own or just be awed at the imaginative pieces. Either way you can't go wrong.
There are two parts to this award.
First: I must select seven blog's I feel deserve the award
. Choosing favorites makes me nervous, but I must. These imaginative seven deserve nothing less. But please see my blog roll for all the creative, wonderful blog's I follow.
Second: I will be sharing seven of my favorite fiction authors. The suggestion was mystery, but since I don't read mystery, I figured I could break the rules. Most writers break rules, don't they, Jon?
Drum roll please……
Rhonda Laveen's Wonderland-exploring life, love and interconnectedness
I recently discovered this blog gem and adore Rhonda's fresh take on life. She's not only original, but charming, taking on life one word at a time. You bet I'll come back for more and have no doubt you will too.
Author Jai Joshi's Tulsi Tree
A splendid storyteller, Jai weaves in fascinating details about her rich culture as well as writing experiences. Like turning a fast corner, you never know what you'll find here. Her entries sparkle with wit, wisdom and humor.
Georganna Hancock-A Writer's Edge
If you want the latest on the writing and publishing industry, Georganna has the edge. She's in the thick of things and wants us there too. Her clever, informative style offers everything from author interviews to editorial services. Lucky her. Lucky us.

Deanna Schrayer-Deanna's Blog, The life of a working writer mommy
How can you not love this from the title alone? Women know what a challenge it is to write and raise kids. When reading Deanna's blog entries, it's like pulling up a chair and sitting down to fried chicken and homemade gravy with our favorite people. Her style is friendly and warm, her stories original.


Cindy Tierney Adams- Gooblink.com, Obstreperous Heart
A boisterous, comical blog with serious undertones, Cindy captures us with her short stories, musings and writing experiences. An example title: After the kids, come the granny pants. Now you know you want to read her!
Angie Ledbetter-Gumbo Writer
Straight from the Louisiana Bayou this blog is flavored like a fantastic gumbo rue. Each post thrown in the pot is hot, hot, hot. You can't stop eating, I mean reading.
Jenn Lidster-
When you visit her blog the visual alone will draw you in. The tree, stars and clouds suggest something magical, and Jenn doesn't disappoint. This blog is stuffed with everything writing related, including author interviews.
You can find these fine word slinger's on my blog roll. Congratulations to all!
Second: Seven favorite fiction authors:


Barbara Kingsolver
Anne LeClaire

John Steinbeck

Alice Hoffman

Truman Capote

Paulette Jiles

Ray Bradbury